Do you want to become a professional environmental scientist in Lahore? And also looking for a reliable, regulated, authorised and chartered medical institution in 2023? Then, you should know about Lahore-UBAS. This article will comprehensively introduce Lahore-UBAS and its degree programmes like BS Environmental Sciences for Admissions 2023. Make sure you read it until the end for authentic facts and figures. The admission form is also available at the end of this article.  
Let's Introduce Lahore-UBAS
Lahore-UBAS aims to be a leading university in the humanitarian biology and health sciences field. We offer excellence in the form of various undergraduate and graduate degree programs. LMCD awarded university charter, – Lahore-UBAS, working under the umbrella of the prestigious Punjab Group. Hence, it's 4th university to embark on a journey to educational excellence.  
The details of our BS Environmental Sciences, with future perspectives, incentives and benefits, are placed as under.  
Programs at Lahore-UBAS
Lahore-UBAS offers 18 programs as undergraduate and graduate programs. The list of the programs is available below. Furthermore, each program's content and course outline is carefully drafted and curated with due diligence.  
We have considered the regulatory requirements and modern developments before curriculum designing. We aim to provide skilled and knowledgeable professionals to Pakistan's medical, health and biological sciences, who would be able to address the complexities and sensitivities relating to human health, emotions and the environment with empathy and care.  
Study BS Environment Sciences with Us
At Lahore-UBAS, we offer four faculties. The faculty of Biological Sciences is one of them. Hence, we are talking about BS Environmental Sciences; in the content below.  
BS Environmental Sciences is a professional degree for the duration of four (4) years. During these four years, students would pass through 08 semesters. These semesters have extensive courses for the wholesome development of our students as the entire BS Environmental Sciences combines various elements of biology, chemistry, geology, ecology, and other disciplines. 
A Bachelor of Sciences in Environmental Sciences is a degree that will prepare students to become specialists in the surroundings and consultants to address the issues that are caused by adverse human activities. Therefore, you will learn a course that circles around exciting and ever-evolving subjects like biology, chemistry, physics, environmental biology, environmental chemistry, and environmental ecology.  And many more are available.  
At Lahore-UBAS, students will not only learn knowledge-based skills but also get a chance to develop experimental learning. Students can obtain practical experience, sharpen their critical thinking, and strengthen their problem-solving abilities through fieldwork, lab experiments, and research projects. Students might also have the chance to focus on topics like environmental chemistry, environmental policy, renewable energy, environmental health, or ecosystem management. 
Learn more about BS Environmental Sciences at Lahore-UBAS here!   
Eligibility Criteria for BS Environmental Sciences 
To enrol in BS Environmental Sciences, the following criteria must be met.   
Criteria Prerequisite: Minimum 45% Marks in Intermediate / A-Level or equivalent (Pre-Medical) 
Further Opportunities for Environmental Scientists
Climate Change is one of the biggest threats and concerns of the modern era. Pakistan is one of the most-at-stake countries in the world. Therefore, our environment needs sustainability and slowing down the process of damage.  
For this reason, students with a professional degree in environmental sciences will enjoy the opportunities to have a massive multitude of work. Some of the career prospects could be as follows.  
Environmental Consultant

 

Environmental Scientist

 

Sustainability Specialist

 

Conservation Biologist

 

Environmental Policy Analyst

 

Renewable Energy Consultant

 

Water Resources Specialist

 

Environmental Educator

 
Lahore-UBAS Offers Scholarships
Various Scholarship options are available for all students at Lahore-UBAS. In addition, all other faculties are eligible for scholarships. However, the criteria are different for all. The scholarship policy is available for further reading.  
Other Reasons to Study at Lahore-UBAS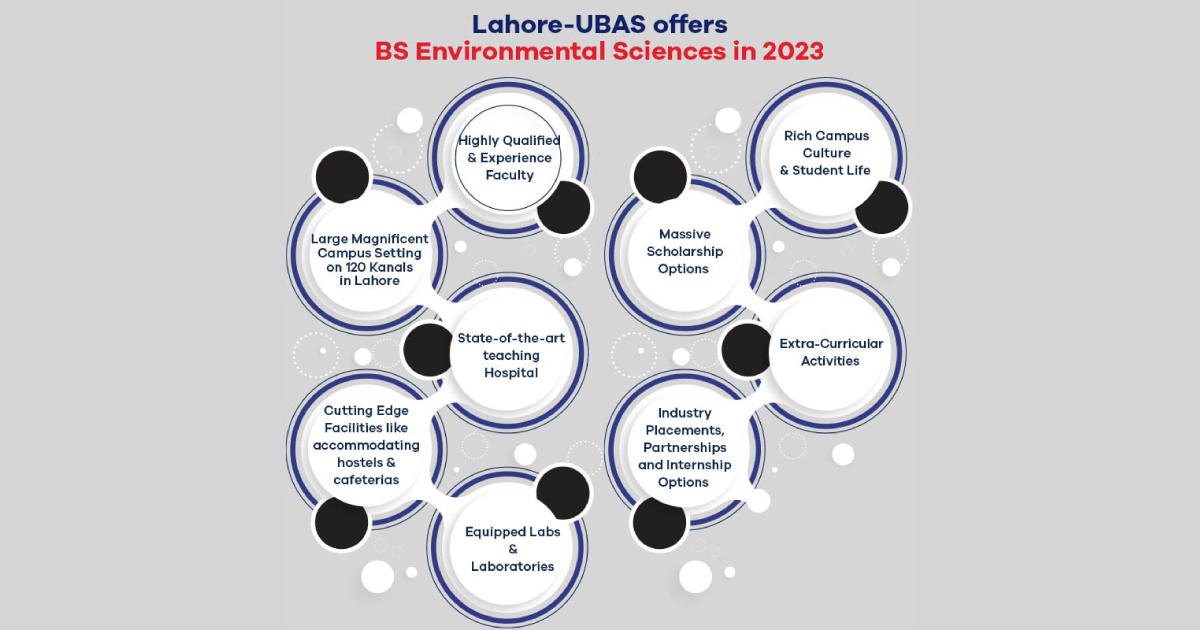 In addition to the rich curriculum, there are many solid reasons that it would be your once-in-a-lifetime experience if you study at Lahore-UBAS to become an environmental specialist with BS in Environment Sciences. Some of the prominent features are listed below. 
Highly Qualified & Experience Faculty

 

Large Magnificent Campus Setting on 120 Kanals in Lahore

 

State-of-the-art teaching Hospital

 

Cutting Edge Facilities like accommodating hostels & cafeterias

 

Equipped Labs & Laboratories

 

Rich Campus Culture & Student Life

 

Massive Scholarship Options

 

Extra-Curricular Activities

 

Industry Placements, Partnerships and Internship Options

 
Admissions for 2023 are Open
Lahore-UBAS opens fall intake for 2023. Get a chance and decide to take the lead for tomorrow. The application form is available online.   
Conclusion
 Biological Sciences is a popular and demanded faculty. Hence, it is available for interested students at Lahore-UBAS. We, working as a chartered university, under the umbrella of Punjab Group, as 4th university. Aiming for academic excellence and a better future. BS Environmental Sciences at Lahore-UBAS is available. Take admission today, under fall admissions 2023.