Are you looking for a bachelor's degree in both living organisms and technology?  Or do you want to know how a small cell of a living organism can be useful in manufacturing a lot of the latest marketable products? Then you can study BS Biotechnology at Lahore-UBAS, which includes all the useful knowledge regarding the exciting combination of biology and technology. 
What is Biotechnology?
Biotechnology is the study of both natural sciences and engineering sciences to use various organisms, cells or molecules in the production of new useful products and services. Biotechnology is an evergreen field, and biotechnology specialists are using these techniques to develop new beneficial products for a long time.  
Overall, Biotechnology improves our standard and nature of living. Various products are used daily which are the gift of biotechnology to mankind. Some of them are as follows: 
Biofuels

 

Biogas 

 

Lactose-free milk

 

A lot of dairy products

 

Alcohol production

 

Detergent enzymes

 

Skincare products 

 

Recycling of plastics

 

Genetically modified crops like golden rice

 
And the list goes on. Moreover, biotechnology has helped propose new techniques for agriculture as well. It would be best to study a bachelor's degree in biotechnology to be a part of this field. 
Top 3 Reasons to Pursue BS Biotechnology
You may be questioning yourself whether to choose this degree or not. Let me tell you the top three benefits of this degree for your future. 
Practical Work Experience
You will engage in many of the laboratory works, perform experiments on different cells or molecules of living organisms, and you will do some research on any of your innovative ideas. In addition to that, you will also gain practical experience in performing biotechnological techniques.  
Opportunity to Develop New Products
While studying BS Biotechnology, you will also use various equipment and use your theoretical knowledge to make new products with great market value.  
Scope for Professional Degree in Biotechnology
In Pakistan, many government and private organisations are working on the development of Biotechnology. Some include the following: 
Various agriculture and health universities and research and development (R&D) institutes have been working on the capacity building of this field. Therefore, you can also be a part of these sectors and make your name. 
Other than that, the Pakistan Agricultural Research Council (PARC) is also working in our country for the expansion and exploration of this field. As a result, the scope of BS Biotechnology is rising all over the country for the past few years. With the knowledge of biotechnology, you will work in different sectors like: 
Research and Development Laboratories

 

Biopharmaceutical Companies

 

Agricultural Biotechnology Companies

 

Diagnostic Laboratories

 

Government Agencies

 

Academic Institutions

 

Healthcare Organization

 
Thus, you can confidently apply at Lahore-UBAS, for this degree. It has a lot of opportunities for you in future. 
Lahore-UBAS Offers Outstanding BS Biotechnology Degree
The Lahore University of Biological and Applied Sciences (Lahore-UBAS) is a progressing university which has 18 degree programmes in medical and life sciences. BS Biotechnology is one of them. We have designed a top-notch curriculum for this degree according to the approved study pattern by Higher Education Commission (HEC). 
BS Biotechnology Course and Curriculum
The undergraduate degree in biotechnology consists of 08 semesters for 04 years. The subjects which are included in our Bachelor of Science (BS) in Biotechnology will help you gain all the beneficial knowledge about this ever-growing field. Some of the subjects are: 
Molecular biology

 

Genetics

 

Biochemistry

 

Microbiology

 

Cell Biology

 

Immunology

 

Biostatistics

 

Bioinformatics

 

Genetic Engineering

 

Pharmaceutical Biotechnology

 
In addition to that, you will also study some courses on some specialized areas like: 
Agricultural Biotechnology

 

Industrial Biotechnology

 

Medical Biotechnology

 
Other than that, the facilities provided at our university are all up to the mark. 
Top Facilities at Lahore-UBAS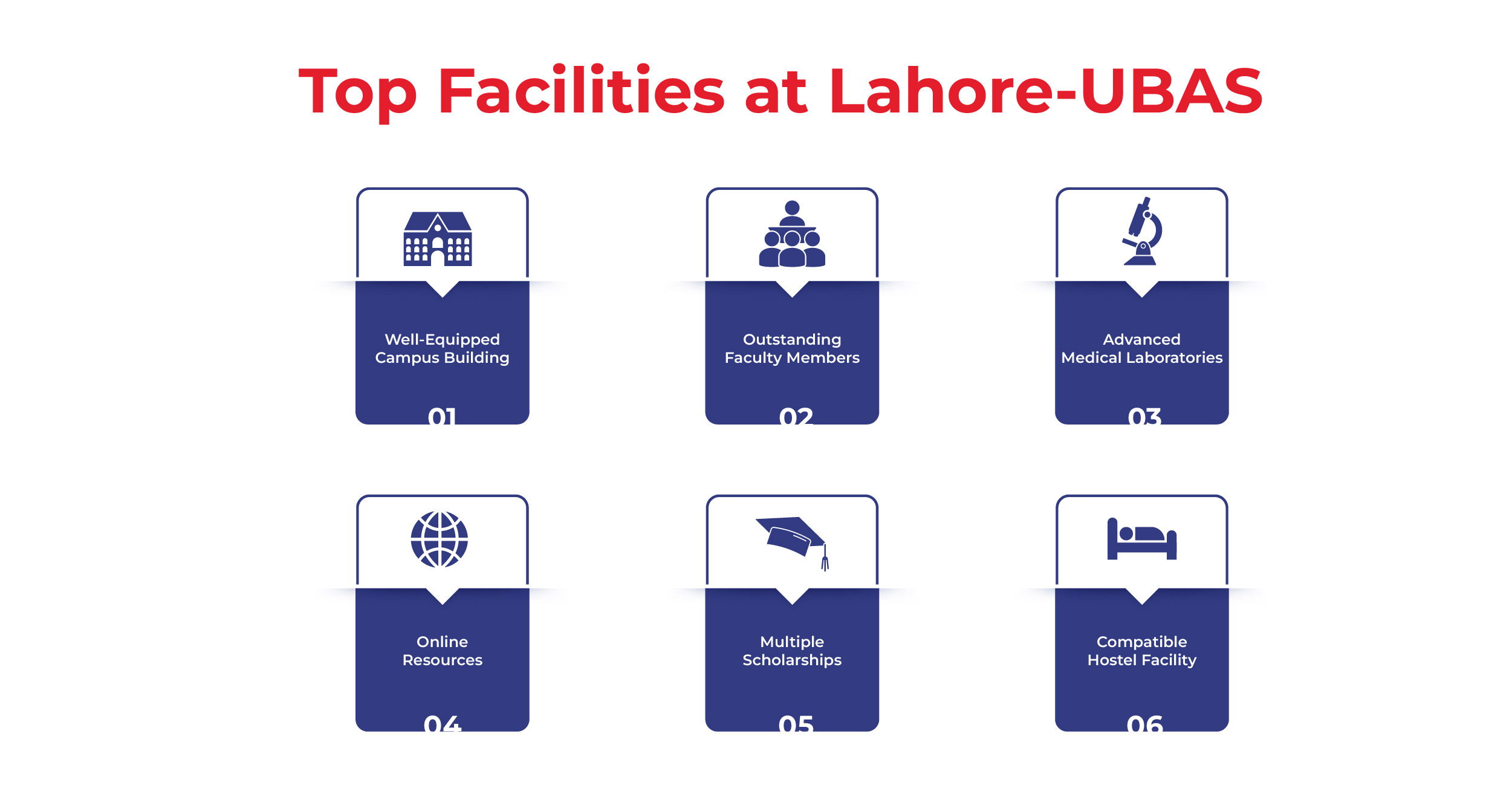 Lahore-UBAS offers a wide range of facilities for every student. So, you will benefit from the following facilities by registering with our institute. 
Well-equipped Campus Building
The campus building is very important in your university life. Because a fully equipped campus makes studying easy. Therefore, you must assure that you are studying in a fully equipped campus. Lahore-UBAS provides state-of-the-art infrastructure including: 
Multimedia Equipped Classrooms

 

Well-Furnished Auditoriums and Classrooms

 

Advanced Laboratories

 

Book-Stocked Libraries

 

Indoor and Outdoor Games Complex

 

Hygienic Cafeteria

 
Outstanding Faculty Members
Our university has more than 300 well-educated faculty members. All of them are experienced in their field of study. Thus, you will get quality education through their advanced teaching methodologies. 
Advanced Medical Laboratories
We have different medical labs which are all equipped with advanced technology and equipment. So, you will be able to test different hypotheses and undertake research on various topics through this facility. Our lab staff will be there to help you with all your research. 
Online Resources
All our online resources will help you study any topic in the digital journals through Lahore-UBAS access to help you ace your educational journey.  The resources include HEC Library (you can study any educational material present in HEC Digital Library)  
Furthermore, we also provide you with access to many renowned journals from all over the world. These journals have beneficial data on a wide range of disciplines that will help you study effectively. The journals are: 
Scholarships Available at Lahore-UBAS
If you have scored good marks in FSC then I have good news for you that we provide various scholarships such as: 
Merit-based 

 

PGC Alumni based

 

Need-based

 

Kinship-based

 

Sports-based

 

Disability-based

 

Contingency-based (if your father or guardian decease during studies)

 
You can avail yourself of these scholarships according to the percentage of your marks in FSC premedical or A-levels. 
Compatible Hostels Facility
If you are an outstation student and want to study at our university then you do not have to worry, because we have a high-standard hostel. You can learn more about the hostel facility by visiting our website. 
Careers After Studying BS Biotechnology in Pakistan
After reading about all the benefits of registering with our prestigious institute, you must be thinking of opting for BS Biotechnology and its advantages for your future. do not have to worry because our degree will open a lot of career pathways for you.  Hence, you will be able to play different roles like: 
Biotechnologist

 

Research Associate

 

Quality Control Analyst

 

Laboratory Technician

 

Bioinformatics Specialist

 

Product Development Scientist

 

Regulatory Affairs Specialist
Ultimately, you will have the chance to accomplish your goals through multiple career prospects after graduating with BS Biotechnology at Lahore-UBAS. 
Eligibility Criteria for Admission to BS Biotechnology
Now, you must be thinking if you are eligible for this degree at our university or not. It is simple, you can apply for our BS Biotechnology degree if you have at least 45% marks in FSC pre-medical or A-levels. 
Join BS Biotechnology at Lahore-UBAS Now!
For the best learning experience, apply for our BS Biotechnology degree right now! You can apply online, or you can visit our campus in Lahore. Start your quality learning with us. As Admissions 2023 is on a roll.