Are you interested in criminal investigations? Then you must want to know about a degree with all the opportunities for you to work on both criminal and civil cases. You can study BS Forensic Science to gain all the knowledge and expertise in the field of forensics. 
Have you watched the famous criminal investigation TV serial; CID? If yes, then you must have wanted to become like them at one point in your life. Also, you may want to assess and analyse the criminal clues and work like their forensic experts to catch the criminals. Then read this article till the end to know all the benefits of pursuing this field. 
Introduction to Forensic Science
Criminalistics is another word used for forensic science because it mainly deals with the application of science to criminal and civil laws. Similarly, if you are interested in criminology, you should study criminalistics. You will be able to understand all the legal standards of criminal procedure and admissible evidence in this field.  
Furthermore, forensic science deals with a broad number of practices like the analysis of different samples which can be any of the following: 
DNA

 

Fingerprints

 

Blood Stain Patterns

 

Firearms

 

Ballistics

 

Toxicology 

 
To excel in all the techniques and grasp significant forensics concepts, you should apply for a bachelor's in forensic science degree.  
What is BS Forensic Science?
BS Forensic Science is an undergraduate degree of 04 years. This programme will help you gain all the exclusive education needed for the interpretation of evidence which includes the following aspects: 
Scientific Principles

 

Laboratory Techniques

 

Investigation Methods

 
You will also be able to develop basic skills vital for the investigation procedure such as: 
Evidence Collection

 

Analysis 

 

Interpretation of the Results

 
All of this information will be very helpful in your professional life. But first, you should register yourself with the best forensics major university which is the Lahore University of Biological and Applied Science (Lahore-UBAS).  
BS Forensic Science at Lahore-UBAS
Our renowned institute is offering 18 degree programmes for you to choose from with more than four faculties. Lahore-UBAS is the university charter of LMDC, and it has been working progressively to provide you with top-notch courses in medicine and life sciences. One of our many undergraduate degrees is a BS Forensic Science.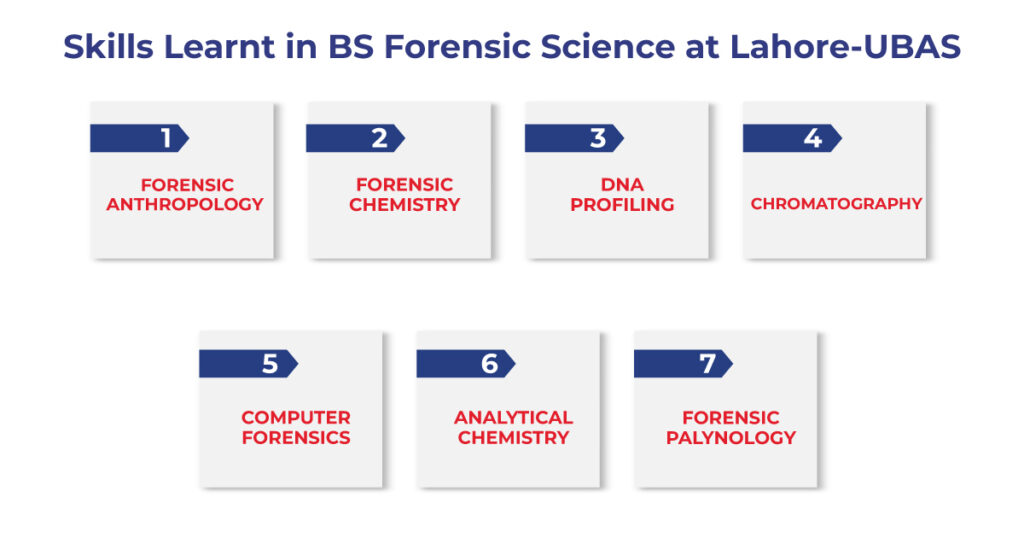 Our well-experienced faculty members are always there to aid you in your learning and practice of the field. Eventually, you will get a hold on the following set of skills by studying at our prestigious university: 
Forensic Anthropology

 

Forensic Chemistry

 

DNA Profiling

 

Chromatography

 

Computer Forensics

 

Analytical Chemistry

 

Forensic Palynology

 
Hence, you will get ample practical exposure as well as theoretical learning in the Bachelor of Forensic Science.  
Comprehensive Curriculum of BS Forensic Science
We have developed an outstanding scheme of study which will cover all the aspects of the field. So, you will learn the following subjects: 
Forensic Chemistry

 

Forensic Biology

 

Criminalistics

 

Forensic Toxicology

 

Forensic Pathology

 

DNA Analysis

 

Forensic Anthropology

 

Forensic Psychology

 

Crime Scene Investigation

 

Evidence Handling

 

Fingerprint Analysis

 

Documentation 

 
If you are still thinking about your university choice, let me explain briefly the top benefits of forensic science at Lahore-UBAS. 
Top 4 Reasons to Pursue BS Forensic Science at Lahore-UBAS
When you are applying for a bachelor's degree, you should weigh up all the advantages you can get in a university. For this reason, we are proud to tell you the top four reasons which are mentioned below:  
1. State-of-the-art Facilities at Lahore-UBAS
The Lahore-UBAS campus is not just a display of state-of-the-art infrastructure but also our whole building is stocked with the finest facilities. Our features include highly advanced science laboratories, computer labs, a well-furnished hostel facility and an all-rounded campus life. You will do experiments, analysis and different tests in our labs to enhance your practice in the field of forensics.  
Furthermore, our Lahore-UBAS Teaching Hospital which is currently under construction is a multi-speciality hospital which will help you gain more in-field experience. 
2. Experienced Faculty Members
We have a student-to-teacher ratio of 12:1 which means you will clear all your concepts with the most attentive learning. All our faculty members are well-educated and trained in their respective fields. So, you will benefit from their expertise in the practical field. 
3. Online Educational Resources
You will get access to the HEC digital library which contains more than 75000 educational contents. In addition to that, you will also be able to get your way in many other valuable journals from all around the world. Thus, you will be able to stay updated on all the research and modifications going on in the field of forensics at Lahore-UBAS. 
4. Multiple Scholarships Available
You can avail a variety of scholarships by taking admission to our university. We have merit-based, alumni-based (PGC students), need-based and also kinship-based at Lahore UBAS. So, do not wait anymore and apply right away to enjoy all the benefits available at our institute. 
Career Prospects for BS Forensic Science
Once you complete your degree in BS Forensic Science from Lahore-UBAS, you will have the chance to work in the following roles in your professional careers: 
Forensic Scientists

 

Crime Scene Investigators

 

Laboratory Technicians

 

Forensic Analysts

 

Evidence Technicians

 

Forensic Toxicologists

 

DNA Analysts

 

Forensic Ballistics Experts

 
Additionally, you can also work as a Forensic Chemist in Law Enforcement agencies, government laboratories, forensic laboratories, medical examiner's offices and private forensic consulting firms. Moreover, you will also have a chance to work in legal organisations, insurance companies or research centres. 
Apply to BS Forensic Science at Lahore-UBAS Now!
You can apply to our top-standard university by visiting our campus in Lahore or you can also enrol yourself through our admission portal online.  
So, register yourself for an excellent academic experience right now!