An undergraduate degree in English will increase your grip on the international mode of communication. Thus, you can study, and explore several cultures and learn through online resources. Thus, Lahore-UBAS, Offers a BS English Language and Literature for those who have a fondness for creativity, story writing and literature.  
Benefits to Pursue English Language & Literature in BS
English is an international language; therefore, it is the major mode of communication throughout the globe. Furthermore, a proficient person can read, study, and learn from the latest trends and information that are globally available in black and white in the English language.  
Routledge lists twelve benefits to studying English as an undergraduate. However, in a nutshell, you can open a doorway for global opportunities in terms of both learning, exploring and earning perspective.  
Furthermore, Lahore-UBAS is offering a BS in English Language and Literature for their undergraduate program under the faculty of social sciences.  Those who are interested in linguistics can experience a rich life at the Lahore UBAS campus.  
The university offers a chance for skill development during the course of this four-year degree. Details are available below.  
Skills Development with BS English Language & Literature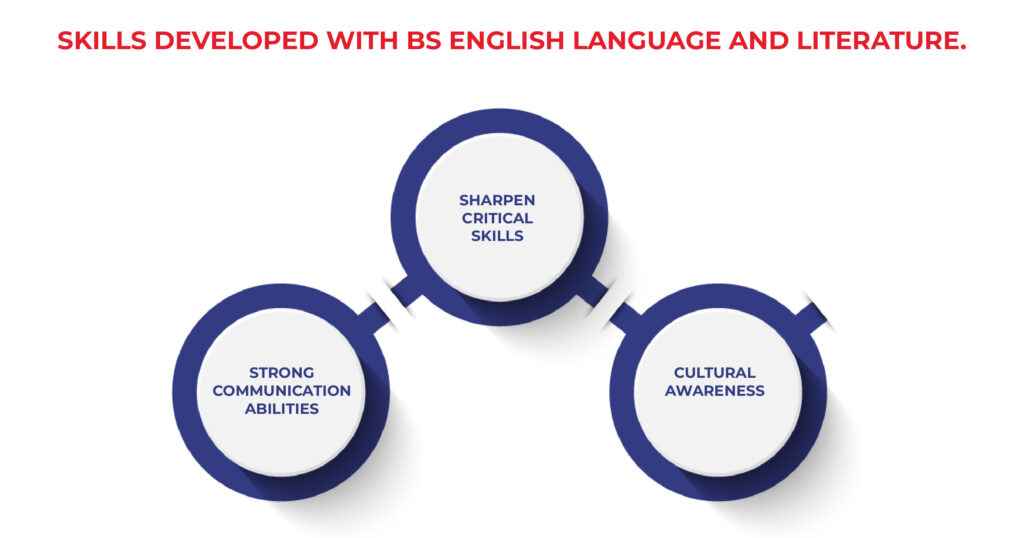 The BS English Program develops a variety of important abilities that can be applied in a variety of professional settings. Students gain  
Strong written and spoken communication abilities, allowing them to communicate complicated concepts, express themselves effectively, and engage in critical dialogue.

 

The study of literature hones analytical and critical thinking skills, helping students to examine and comprehend texts from many perspectives. 

 

Furthermore, the Program fosters creativity, empathy, cultural awareness, and the ability to negotiate different perspectives and worldviews.

 
The Curriculum of Undergraduate in English
The BS in English language and literature is an approved degree program for four years. The curriculum is a combination of core, elective, general, and many more. Furthermore, students explore the historical, cultural, and social circumstances that shape literature through attentive reading, textual analysis, and interpretation of literary works. The Program may also include opportunities for research projects, seminars, and internships to help students improve their practical skills and knowledge of the topic. 
Further Options to Study after BS English Language 
Once students complete their bachelors in English Language and Literature, they can pursue their advanced education. Master's and PhD are the available options. Furthermore, during the degree, students will also get numerous skills like critical analysis, cultural literacy, etc.  
You can explore more about BS English Language and Literature here.  
Career Options after BS Language & Literature
Let's search about the possible career opportunities after completion of a BS in English Language and Literature.  
You can join any of the following careers. 
Publications

 

Author

 

Editor

 

Teacher, Lecturer, Professor

 

Research

 

Journalism

 

Communications

 

Librarian 

 

Online Tutor

 

IELTs instructor

 
Admissions for 2023 are Open
In addition to the high-quality education, the students can get a chance to experience the vibrant life at Lahore- UBAS. We have all the necessary facilities to address the 21st century requirements. In the following, all the benefits are available. 
A Status of Chartered University

 

Part of Largest National Educational network

 

Sister Institution to 3 well-known Universities

 

A Large Campus in the beaty of Lahore

 

Multiple Scholarship Options

 

State-of-the-art Campus

 

Rich Libraries

 

Cafeterias

 

Protected Hostels

 

Vibrant Campus Life

 
The applications for fall admissions 2023 are welcomed from those who want to study the knowledge and gain hands-on experience with various latest skills during their stay at the university. You can apply on the online admission portal. Be quick, and don't miss a chance.  
Conclusion 
As you have gone through the in-depth details and learning opportunities directly related to the BS English Language and Literature, we are sure that now if you had any confusion in your mind, it would have been clear. Hence, on this concluding point, we are happy to remind you that fall admissions 2023 are on the roll at Lahore-UBAS. Apply today and initiate a life as creative as your inner child is with BS in English Language and literature.