Are you a student who is interested in lab technologies or how a certain test determines a medical condition? If yes, then you should read this article to get a brief idea of the field of medical laboratory technology and the undergraduate degree of BS MLT in Pakistan. 
Introduction to Medical Laboratory Technology
Firstly, let me tell you what medical laboratory technology is and what will you gain after studying this profession. So, medical laboratory technology combines the challenges and rewards of both the fields of medicine along laboratory sciences.  
Role of a Medical Laboratory Technologist
As a professional medical technologist, you will assist in the diagnosis and treatment procedure of diseases. Moreover, you can perform certain qualitative and quantitative screening or examination tests of the human body. So, it sounds interesting, right? 
Moreover, it is an innovative and interesting degree to study after passing your intermediate or A-levels to get a variety of choices upon graduation. Hence, anyone who is interested in diagnosing a specific disease should opt for this amazing undergraduate programme of BS MLT in Pakistan.  
But the main point is to choose the best institute which is HEC-recognized and also, gives enough clinical exposure to every student. Hence, you should choose the Lahore University of Biological and Applied Sciences (Lahore-UBAS) for the BS in Medical Lab Technology because it has all the outstanding features available to you. 
BS MLT Subjects at Lahore UBAS
Our university has set a very exclusive course curriculum for you to become one of the best medical lab technologists. Additionally, we have an affiliation with our Lahore-UBAS Teaching Hospital, which will help you build market-driven skills along with studying the following amazing subjects in our top-notch institute: 
Clinical Chemistry

 

Microbiology

 

Haematology

 

Immunology

 

Pathology

 

Blood Banking

 

Molecular Diagnostics

 

Clinical Laboratory Management

 

Medical Ethics

 
Furthermore, you will participate in lab work and clinical rotations to get practical field experience in the degree of BS MLT at our renowned educational institute. All these field activities will help you gain beneficial skills for your future. 
Skills Developed During BS MLT at Lahore-UBAS
We provide all the advanced equipment in our laboratories for every student to practice in real-time. Ultimately, you will not only grasp proficiency in laboratory techniques but also develop all the vital analytical skills. So, these will include skills such as; problem-solving, data analysis, teamwork, leadership, effective communication, attention to detail, and ethical decision-making. 
Thus, you should enrol yourself at our university to get specialised learning in the field of medical laboratory technology. 
What Common Tests Does a Medical Technologist Perform?
There are a whole lot of diseases which you can help diagnose with your expertise while working as a medical lab technologist. The variety of tests you can perform while analysing blood and other body fluids are as mentioned below: 
Complete Blood Count (CBC)

 

Electrolyte Panel

 

Blood Type

 

Comprehensive Metabolic Panel (CMP)

 

Semen Analysis

 

Thyroid Functioning Test (TFT)

 

Liver Functioning Test (LFT)

 

Renal Functioning Test (RFT)

 

Coagulation Profile

 

Lipid Profile

 

Blood Cultures Assessment

 
Hence, it shows that this modern field of study can give you multiple specialisation options depending on your interest. 
What Specialisation Does BS MLT Offers?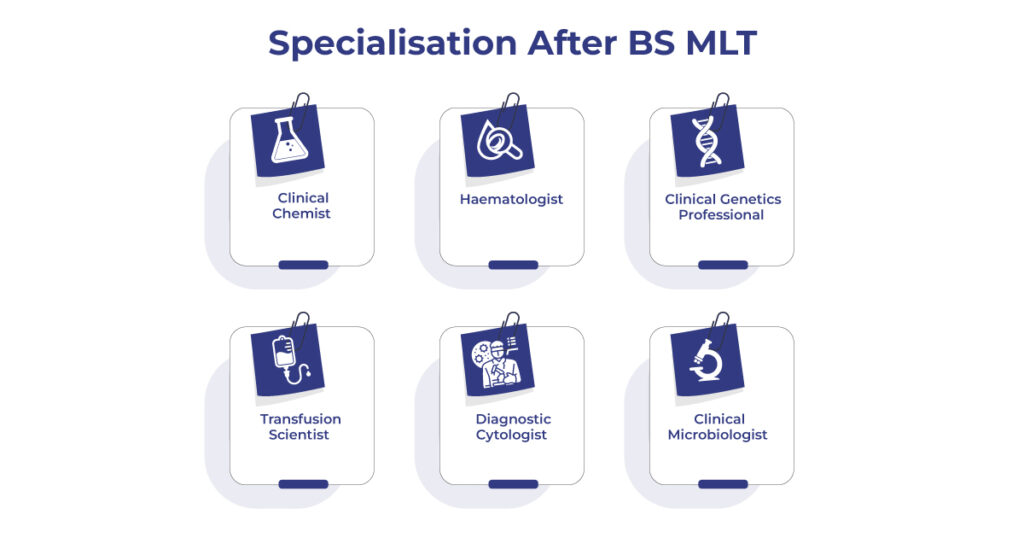 After Graduation, you have to polish your skills in the direction of your choice of specialisation which can be any one of the following: 
Clinical Chemist

 

Haematologist

 

Clinical Genetics Professional

 

Transfusion Scientist

 

Diagnostic Cytologist

 

Clinical Microbiologist

 
Thus, this wide range of options shows the rising medical lab technology scope in Pakistan. 
Scope of BS MLT in Pakistan
The scope of a Bachelor of Sciences (BS) in Medical Laboratory Technology (MLT) is very high and professionals with a BS MLT degree are in great demand. Furthermore, after graduation, you can work as a medical lab scientist in international government positions like the Food and Drug Association (FDA), United States Department of Agriculture (USDA) and others. 
Other than this, you can easily be employed in a variety of government and private hospitals, labs, industries and manufacturing units.  
Career Options After Graduation
If you want to work side by side the other medical professionals, then this degree of BS MLT is the best choice for you. You can choose to be one of the following professionals in future: 
Pharmaceutical Assessment Specialist

 

CT Scan Technician

 

Pathology Technician

 

MRI Expert

 

Renal Dialysis Technician

 

X-Ray Technician

 

Dental Machine Technician

 

Radiology Technician

 

Optical Lab Technician

 

Physiotherapy Technician

 
So, you should not wait anymore and apply to our university for this undergraduate programme. 
Apply for BS MLT at Lahore-UBAS Right Now!
Our seats are limited, and the degree programme is excellent for your future. Therefore, you should apply at the Lahore University of Biological and Applied Sciences (Lahore-UBAS) right away! You can either apply via our online admission portal or, you can also visit our university campus in Lahore for your registration for our fall admissions 2023.