If you are looking for a degree with all the modern knowledge which focuses on disease prevention and management, then you should learn about the Bachelor of Public Health. It is right that a degree in nutrition is beneficial for the future, but you can enjoy more broader scope and job opportunities all around the world if you opt for a BS in Public Health instead of a nutrition or other life sciences course of study. 
Public Health and its Importance
The science of preventing diseases, prolonging life and promoting health is called Public Health and due to certain on and off disease outbreaks, this has become a vital field of study. It is important to study public health as it aids in global health promotion in different sets of communities, populations or societies.  
Thus, you can use the 3 Ps (prevention, promotion and protection) to work in different specialised areas of Public Health. 
Areas of Public Health
Changes are occurring at a rapid pace and the world needs to adapt to it. Therefore, many upgrades are happening in the field of science, one of them is public health. It is not a new field, but its importance is recently well recognised.  
During the COVID-19 outbreak, professionals with a Bachelor of Public Health or more advanced education played a very important role in regaining health globally. There has been a wide spread of many other infectious diseases like Ebola, and monkeypox both in Pakistan and overall the world.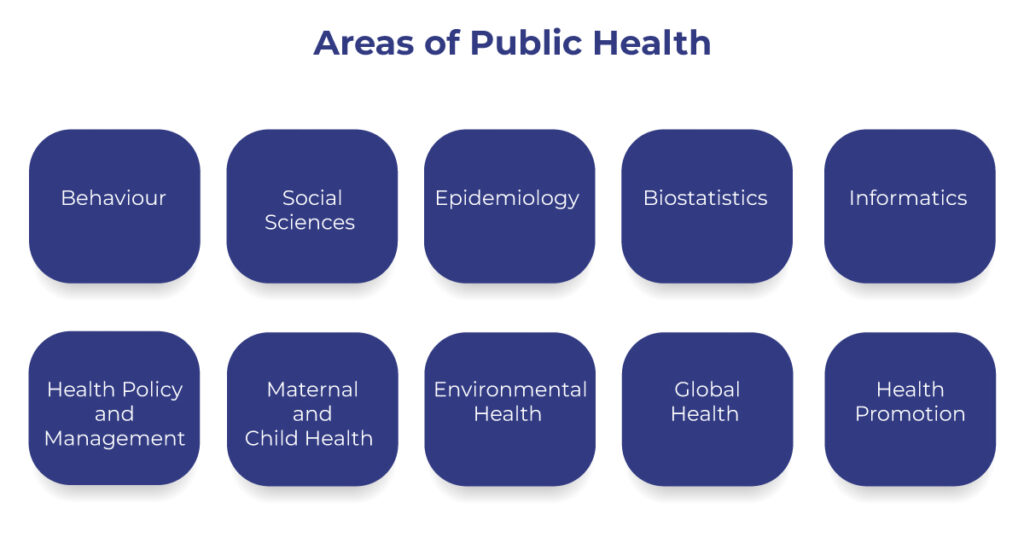 Other than this, there have been many earthquakes and flood situations in the past 5 years which shows us how our public health is getting affected. Therefore, the areas which require professional attention included in the field of public health are as below: 
Behaviour and Social Sciences

 

Epidemiology

 

Biostatistics and Informatics

 

Health Policy and Management

 

Maternal and Child Health 

 

Environmental Health

 

Global Health

 

Health Promotion and Communication

 
You can choose to specialise your skills to work in one of these areas but first, you should get a Bachelor of Public Health degree from an HEC-recognised university. 
Bachelor of Public Health at Lahore-UBAS
If you are done with intermediate studies and looking for an undergraduate degree with all the future benefits, then you should study BS in Public Health. And what other institute can be better than the Lahore University of Biological Sciences (Lahore-UBAS)? No one, because we have designed every degree programme to cater to all your educational, as well as your practical needs in the field. 
Our Bachelor of Public Health is a four-year-long undergraduate programme. It will help you develop all the beneficial skills like problem-solving, analytical, research, leadership and much more along with the best teaching methodologies and practical exposure. You can learn more about our BS Public Health degree through our official website. 
Why Study Bachelor of Public Health Instead of Human Nutrition and Dietetics?
As I have said earlier, public health will give you more broad career opportunities than a human nutrition and dietetics degree. But if you want to work in the field of nutrition, you should still opt for this degree because it will help you get job opportunities in the field of nutrition. So, you can work as a public health professional in a hospital or a nutrition care centre with BS Public Health.  
Additionally, you can work at a larger scale, in an international organisation as a project head, or a public health administrator. Moreover, you can become a part of big foundations or organisations such as the World Health Organisation (WHO), Centres of Disease Control and Prevention (CDC), American Public Health Association (APHA), United Nations (UN) and others. 
Increased Scope of Bachelor of Public Health 
Public health professionals can have a positive change in millions of people's lives through their knowledge and skills. You can easily work in a variety of sectors like non-profit organisations (NGOs), private/ government healthcare systems, educational institutes, and research centres.  
A common question people ask is, is public health hard to study? It is not, especially if you are interested in learning about a wide range of health intervention and wellness strategies. There are many benefits of studying public health because this field offers multiple career prospects for your bright future. 
Career Opportunities After Bachelor of Public Health
As a public health graduate, you can work in the following roles for your career growth: 
Nutrition Intervention Project Head

 

Lady Health Worker

 

Public Health Manager

 

Nutrition Guidelines Development Consultant

 

Chief Medical Officer

 

Disease Intervention Specialist

 

Epidemiologist

 

Clinical Infectious Disease Specialist

 

Nutrition Intervention Officer

 

Disease Eradication Officer

 

Government Programme Coordinator

 

Public Health Advisor

 

Healthcare Administrator

 

Researcher or Professor

 
Furthermore, you can read this article for eligibility criteria and other details. 
Take Admission to Bachelor of Public Health at Lahore-UBAS
Our registration for the degree of Bachelor of Public Health is open. So, you can apply online or visit us on-campus for our fall admissions 2023.  
Enrol with us to work as a public health professional right now!