Diabetes is one of the life-long and non-reversible body malfunctions. In this, the body fails to manage the carbohydrates, and eventually, the glucose levels in the blood rise. When unmanaged, they attack the major organs of humans and often result in complex cardiovascular, kidney, eyesight, and nervous system problems. To spread awareness, the international diabetes federation (IDF) and the World Health Organisation (WHO) observe World Diabetes Day 2023.  
World Diabetes Day 2023
To raise awareness around the globe, the International Diabetes Federation (IDF) and World Health Organisation (WHO) have joined hands to observe November 14th every year as 'World Diabetes Day'. This year, WHO aims to emphasise the need for proper professional care for patients with diabetes. Moreover, to pursue a healthy population to live an active and healthy life to stay prevented from this deadly body disease.  
Key Facts About Diabetes in 2023
Some of the complications and real facts about diabetes are as follows.  
Type 1, type 2 and Gestational Diabetes are the major types of diabetes.

 

Diabetes type 1 cannot be avoided. It is frequently possible to prevent type 2 diabetes by eating a balanced diet, getting regular exercise, keeping a normal body weight, and quitting smoking.

 

Diabetes is a leading cause of lower limb amputation, heart attacks, strokes, blindness, and renal failure.

 

 Regular screening and treatment can prevent or delay the consequences associated with diabetes.

 

 To help with early detection, people with diabetes should get routine screenings for complications. This covers routine eye checks, foot assessments, and renal disease screening.

 

According to the latest polls, Type 2 diabetes affects over 500 million people worldwide. Comparably, in Pakistan, about 26.7% of adults have diabetes by 2022, accounting for 33,000,000 people in total. 

 

Every 1 in 2 people is an undiagnosed patient with diabetes.

 
Diabetes- Body Dysfunction
Diabetes is a body disturbance that is caused when the body becomes insulin-resistant. Either the body does not produce enough insulin or does not manage it.  
Diabetes Symptoms 
The possible symptoms of diabetes are listed below. If you feel any of these in your body, please get yourself checked for blood sugar testing.   
Frequent nighttime urination;  

 

A feeling of extreme thirst;  

 

Sudden and spontaneous weight loss;  

 

Feeling of intense hunger; 

 

Blurred vision or difficulty in focus building;  

 

Tingling or numb hands or feet;  

 

Extreme and constant exhaustion;  

 

Dry skin;  

 

Catching more infections than usual 

 

The wound-healing process is slow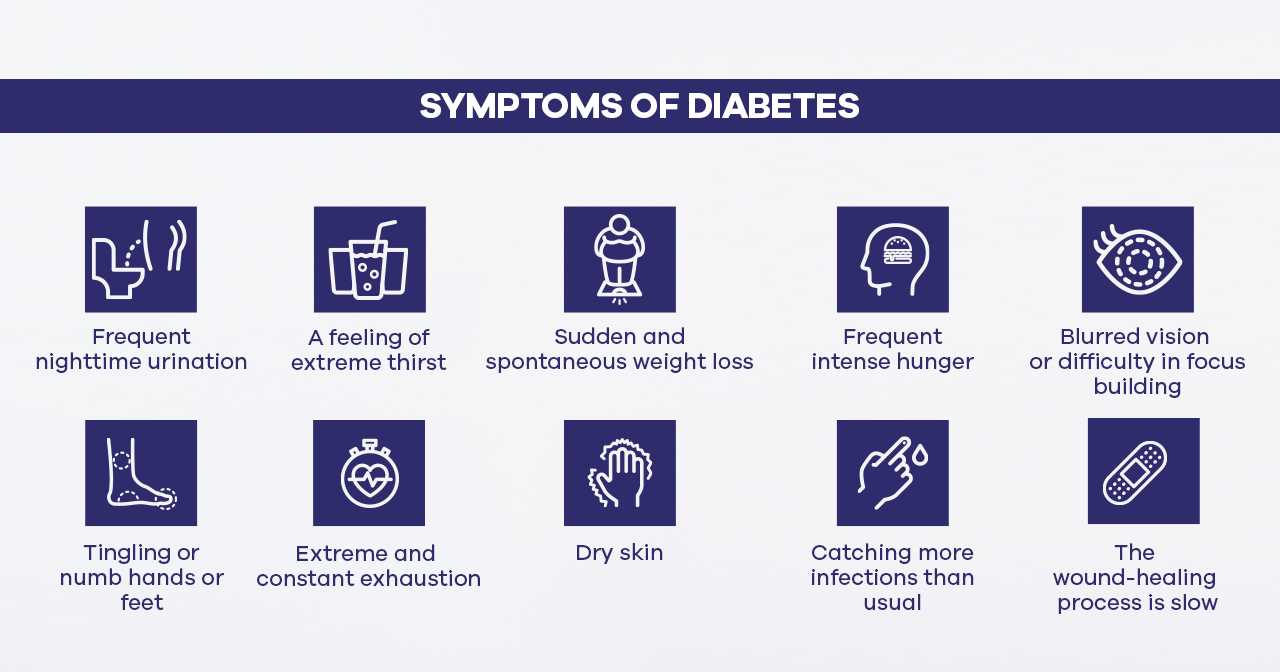 Causes of Diabetes 
These symptoms are common in patients with diabetes. However, patients with type 2 diabetes may experience them, but they are not detectable at younger ages. The type-2 diabetes develops over time, slowly and gradually. Therefore, some of the risk factors that may lead towards type-2 diabetes are penned below to have an eye on.   
Age around or above 45 

 

Overweight body structure 

 

Have a diagnosed type-2 diabetes in biological family (parent, brother, sisters) 

 

Less physical activities   

 

Presence of non-alcoholic fatty liver.  

 

Bad stress management 

 

Race and Ethnicity  

 
Type 1 Diabetes
Type 1 diabetes is a condition when the body does not produce any insulin or produces less than a body requirement. It is also known as 'insulin-dependent diabetes'. It is also known as Juvenile Diabetes. However, the other type of diabetes, which is more common in adults and preventable, is Type 2 diabetes.  
Therefore, if a person falls prey to type 1 diabetes, they can manage their blood glucose levels with the help of the following techniques.  
Insulin Injection

 

Continuous Glucose Monitoring

 

Carbohydrate Monitoring

 

Diet and Nutrition

 

Exercise

 
In the following, we shall look at some healthy lifestyle options which can be helpful in avoiding the deadly ailment of diabetes.  
How to Avoid Type 2 Diabetes? 
There is a famous elderly saying: prevention is better than cure. The same applies to type 2 diabetes, as there is no absolute cure for this body disorder. However, we can prevent diabetes type 2 with the following.   
There are some of the factors that are beyond the control; family history, age factor and race and ethnicity are some of them. On the contrary, there are factors which can reduce the risk of diabetes type 2 to the maximum level naturally. You can practice the following easy but constant steps to prevent type 2 diabetes. There is a piece of great news that we can prevent prediabetes and type 2 diabetes with some lifestyle changes.   
Maintain a healthy body weight. Avoid being obese as it increases the risk of being diabetic from 20 to 40 times.   
Active Lifestyle is a healthy lifestyle. Move your muscles and let them work hard to absorb the glucose and use insulin effectively. In this regard, there is no need for heavy workouts twice a week. However, merely a brisk walk of 30 minutes on a regular basis reduces the risk of type 2 diabetes by 30%  
Furthermore, eat healthy if you want to avoid the development of type 2 diabetes. Choose whole grains and whole grain products instead of processed foods. Replace artificial, sugar-added drinks with water, coffee or tea. Increase the intake of nuts, fruits, and healthy fats like beans, grains, nuts, and fish intake and reduce red meat intake. Furthermore, it would be best if you manage your stress levels on a daily basis. Effective stress management is essential for a sound mind and healthy body.   
Conclusion
November 14 is observed as the 'World Diabetes Day' every year. Diabetes is one of the major reasons of death and disabilities worldwide. Till today, there is no cure for diabetes. Hence, a healthy lifestyle, clean eating and stress management is the only way to prevent diabetes. Let's decide on World Diabetes Day 2023 to maintain a healthy lifestyle.