The Lahore University of Biological and Applied Sciences (Lahore UBAS) is the best when it comes to professional degrees in Applied Health Sciences. Our university specialises in teaching different full-length medical courses in applied health sciences, including Doctor of Physical Therapy (DPT).  
So, if you want to become a Dr. of Physiotherapy, you can apply to our university for the optimal learning experience. First, let me tell you what a degree in Physical therapy means and what you will learn through it. 
Doctor of Physical Therapy at Lahore UBAS
If you have an interest in human anatomy, like what is the human structure and how does the human body work?  Then a degree in physical therapy is ideal for you. You will learn a lot about the basic structures and functioning of bones and muscles in the human body in our Doctor of Physical Therapy Course. 
Additionally, you will learn to examine, evaluate, do prognosis, use interventions, and perform physical therapy techniques on patients. You can also take part in many physician therapy projects. You can be a part of many wellness initiatives with your physical therapy skills. In short, you will help improve the quality of life and physical health of many patients in future. 
Physiotherapist Course Curriculum
The degree duration of a Doctor of Physical Therapy is 05 years long which has 10 semesters. These semesters will not only include the best theoretical subjects but also abundant development of therapeutic skills and hands-on clinical experience.  
List of Doctor of Physical Therapy Subjects
Our degree has a top-notch curriculum for physical therapy doctorate with all the practice and training classes to transform you into the best physiotherapy doctor. Some of the subjects for our Doctor of Physical Therapy degree include: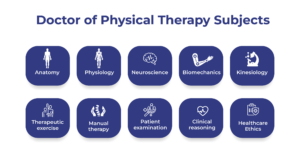 Anatomy

 

Physiology

 

Neuroscience

 

Biomechanics

 

Kinesiology

 

Therapeutic Exercise

 

Manual Therapy

 

Patient Examination

 

Clinical Reasoning

 

Healthcare Ethics and much more

 
So, you will study these subjects with the best possible methodology at Lahore UBAS. Furthermore, we will help you learn about various techniques of physiotherapy to become an outstanding Doctor of Physical Therapy. 
Eligibility Criteria for Doctor of Physical Therapy (DPT)
At Lahore UBAS, the fee structure is kept quite affordable.  So, you can apply for a Doctor of Physical Therapy if you meet the following admission criteria: 
You must have a minimum 

of 60%

 marks in FSC pre-medical

 

Other than this, you can also apply if you have at least 

60%

 equivalence marks in A-levels.

 
Clinical Physiotherapy Skill Development
You will never become a competent physiotherapist only with book knowledge. Hence, practical experiences are always needed. Therefore, you will need a lot of practical skills like patient dealing. We aspire to provide the best balance of theory and hands-on training with our different sessions, as mentioned below: 
Laboratory sessions

 

Simulated patient interaction sessions

 

Clinical practical sessions

 
Thus, after attending all these sessions, you will be able to develop the following physical therapy techniques: 
Therapeutic Exercises

 

Manual Therapy Techniques

 

Gait Training

 

Balance Training

 

Modalities such as Electrical stimulation and Ultrasound etc.

 
What Else Does Lahore UBAS Offer?
Lahore UBAS has been working to provide all the facilities to make your university life the best. You will study with all the outstanding facilities offered at our prestigious institute by applying for the degree of Doctor of Physical Therapy.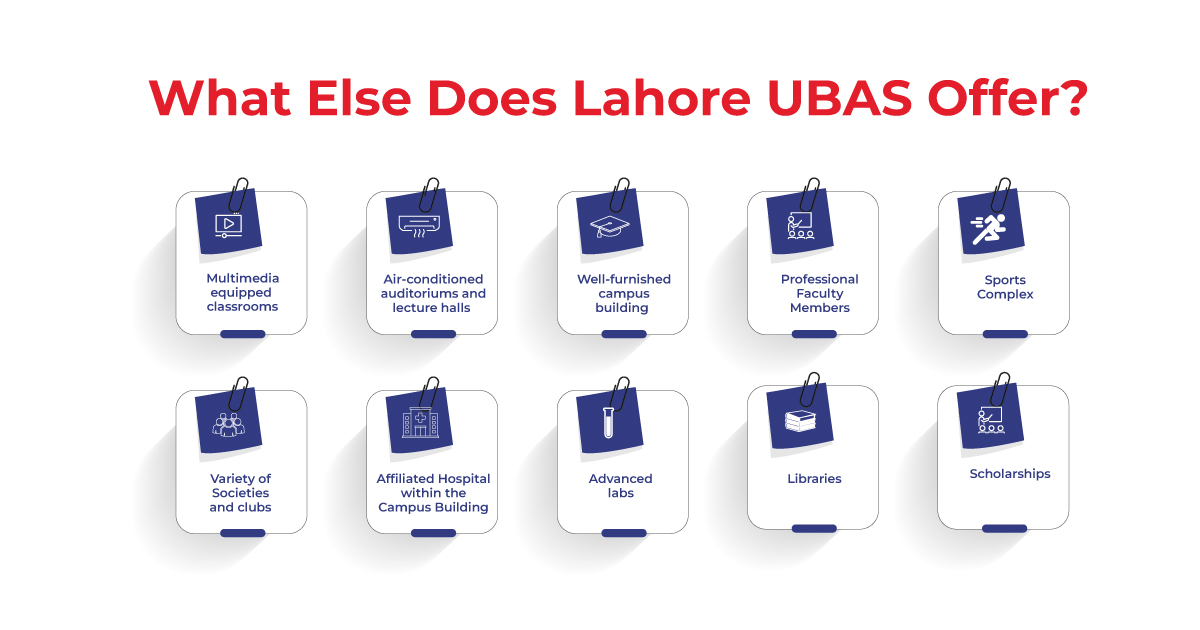 Some of them are: 
Multimedia equipped classrooms

 

Air-conditioned auditoriums and lecture halls

 

Well-furnished campus building

 

Professional Faculty Members

 

Sports Complex

 

Variety of Societies and clubs

 

Affiliated Hospital within the Campus Building

 

 

Advanced Labs

 

Libraries

Scholarships 

 
In addition to that, we give you the opportunity to get training under the guidance of our professionals. However, if you are still thinking about whether is this degree beneficial for your future or not? Does it have any scope in Pakistan? Then stay tuned, as we have explored the scope for DPT below.  
DPT Scope
In the past few years, there has been an increased demand for skilful physiotherapists in our country. This degree is gaining popularity in Pakistan and the scope for a Doctor of Physical Therapy is massive on a global scale. With this degree, you will use your knowledge for the noble cause of helping mankind. So, you can choose the following sectors to work in: 
Hospitals

 

Fitness Centres

 

Sports Clubs

 

Rehabilitation and Trauma Centres

 

Outpatient Clinics

 

Aesthetic Clinics

 

Orthopaedic Centres

 

NGOs

 

Additionally, you can also join the Government sector or Armed Forces.

 
Career Opportunities After Doctor Of Physical Therapy
Now, I am about to tell you about a variety of jobs available for DPT doctors in Pakistan and across the globe. In future, you will get an option to choose from different roles such as: 
Clinical Physiotherapist in any healthcare setup or any Hospital.

 

Sports Physiotherapist

 

Physiotherapist for disabled children

 

Rehabilitation Physiotherapist

 

Physiotherapist in Armed Forces

 

Aesthetic Physiotherapist

 

Government jobs are also available 

 
Moreover, you will work in an NGO if you want to help the less privileged 
Apply Today at Lahore UBAS
You can apply to our Doctor of Physical Therapy by visiting the Lahore UBAS campus or you can also apply within the comfort of your home via our website. Start your academic journey at Lahore UBAS. Apply now as our admission is open.