Are you looking for a degree with a doctor's title other than MBBS or BDS? There is another degree called Doctor of Pharmacy (Pharm – D). This degree is full of potential for your future as you will be able to gain first-hand medical professional experience. 
Doctor of Pharmacy (Pharm – D)
The Pharm – D is a doctorate degree in the field of pharmacy. With this degree, you will learn professional clinical knowledge about drugs and their functions in the body. You will get to know the details about salt in medicine and how different combinations of salts can help cure different diseases. 
However, you will need your pharmacist license to enter the workforce.  
Pharmacist License
After completing your degree at Lahore UBAS, you have to pass the following exam for it: 
Local Licensure examination (for Pakistan)

 

To practice internationally, you have to ace the North American Pharmacist Licensure Examination (

NAPLEX

) 

 
Pharm – D Scope
The field of pharmacy is very versatile, and you will never be bound to one sector. With this degree, you can apply to different practical training sectors like: 
Pharmaceutical industries

 

Pharmacies

 

Hospitals 

 

Healthcare management centre

 

Government sector

 
Career Prospects of Pharm – D
With a pharm d degree, you can work in the following roles: 
Retail Pharmacist

 

Hospital Pharmacist

 

Healthcare Manager

 

Industrial Pharmacist (in QA, R&D and other departments)

 

Drug inspector 

 
As you have seen, the high scope of this degree with multiple job pathways, so getting this degree is a must. However, which university is best for a pharmacy degree? No need to look anywhere else because Lahore-UBAS presents the most outstanding Pharm-D curriculum. 
Pharm – D
Our university aims to deliver the best academic experience for every student. Lahore UBAS offers a variety of undergraduate and postgraduate degree programmes in the fields of: 
Thus, if you want to become the best pharmacist, you must choose Lahore-UBAS for this degree programme in 2023.  
Pharm – D at Lahore-UBAS
The degree of Pharm – D is for 5 years with a total of 10 semesters. You will study a lot of interesting subjects and gain useful knowledge like how a medicine is made or how different doses can affect patients. Also, we have devised the curriculum by keeping in mind the market requirements.  
Pharm – D Subjects
We not only teach you the subjects with the best methodology but also provide you with maximum practical exposure. As a result, you will be able to practice after graduation and start your professional life successfully.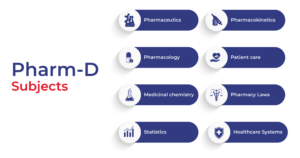 You will study all the subjects that will teach you about this field in detail. So, some of the subjects taught in this degree are: 
Pharmaceutics

 

Pharmacokinetics 

 

Medicinal chemistry

 

Pharmacy Laws

 

Pharmacology

 

Patient care

 

Statistics 

 

Healthcare Systems

 
Why Choose Lahore-UBAS for Pharm – D?
Change is inevitable and it is a big change to transition from a college student to a university student. So, you must be eager to learn and enjoy your university life. That is why our prestigious institute works to develop the finest facilities for you. Thus, you can avail yourself of all the benefits like: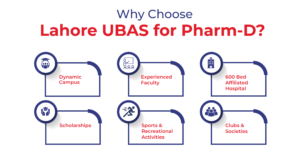 1. Lahore-UBAS Campus
A university is a place where you will spend most of the time of your day. So, if you want to apply to a university with an outstanding campus, apply at Lahore-UBAS right away. In Lahore, our institute offers you an opportunity to study at an exceptional campus that includes: 
Labs with modern technology

 

Classrooms with Multimedia

 

Fully equipped auditoriums 

 

Air-conditioned lecture halls

 

Libraries

 

Hygienic Cafeteria 

 
2. Experienced Lahore-UBAS Faculty
There are more than 300 well-qualified faculty members at Lahore-UBAS. The faculty-to-student ratio is 23:1. This means, there will be 1 teacher for every 23 students. So, you will get the most focused attention and quality education with us.  
3. Affiliated Hospital
With a degree in the medical domain, you need to get some hospital exposure as well. You can apply for internships or work in different medical setups for jobs in future.  
Furthermore, I have good news for you that Lahore UBAS has an affiliation with its very own Lahore-UBAS Teaching Hospital being established within the campus. Our hospital consists of more than 600 beds and tertiary care facilities. This will help you get maximum patient care and hospital work experience for your future. 
4. Scholarships
You can benefit from our merit-based scholarships. The higher your marks in intermediate, the higher percentage of scholarship you can get. In total, we give incentives to the top 10% of our students. 
5. Sports and Recreational Activities
We all know how stressful a medical degree can be, but you cannot always be just a bookworm. No matter how hard the degree is, you must take part in sports or recreational activities of your choice. This not only helps your physical health but your mental health as well, which will help you concentrate more on your studies. You can play various sports at Lahore-UBAS like: 
Hockey

 

Rowing

 

Football

 

Cricket

 

Volleyball 

 

Table tennis

 

Long jump

 

High jump

 

Basketball

 

Running

 
6. Societies and Clubs
We have different societies and clubs at Lahore-UBAS which you can join, these include:  
Literary club

 

Photography club

 

Dramatic club

 
As a result, you will have a perfect blend of campus life by studying at our institute. 
Eligibility Criteria for Pharm – D 
You must meet the eligibility criteria to get admission to Pharm – D that include:  
You must have at least 

60%

 marks in FSC pre-medical.

 

If you have done A-levels, you must have a minimum 

of

60%

 marks in equivalence to apply.

 
(Note: this does not ensure your admission as we have a small number of seats available per course. You have to make it to the merit list to confirm your seat at Lahore-UBAS.)  
Study Pharm – D at the Best Institute in Lahore Now!
With all the benefits of Pharm – D I have mentioned here, you should not wait anymore and apply now! Thus, you can either apply online via our website or you can also visit the Lahore-UBAS campus for admissions.