Are you interested in learning about microorganisms? Then you should get to know about the microbiology undergraduate programme which is a professional BS Microbiology degree. You can study the structure, functions, diseases and new innovations about all the bacteria, fungi and a variety of parasites through this bachelor's programme.  
Brief Intro to Microbiology
As you may have already known micro means small and bio means life. So, microbiology is the scientific term for the study of microorganisms. The microorganisms are divided into three categories based on the number of cells inside them such as:  
Unicellular (single-celled)

 

Multicellular (multi-celled)

 

Acellular (lacking cells)

 
The microbes are further divided into two categories based on the type of organelles which are mentioned below: 
Eukaryotic microorganisms

(membrane-bounded organelles) which include fungi and protists

 

Prokaryotic microorganisms

(not membrane-bounded organelles) which include bacteria and archaea

 
What is BS Microbiology?
The bachelor's in microbiology is a four-year-long degree programme with eight semesters. In this programme, you will study all the sub-disciplines which are as below: 
Thus, you will gain all the beneficial knowledge through this degree to become a great Microbiologist. Now, you must be thinking about where to get admission for this degree locally. No need to look further as I am about to tell you one of the best universities in Pakistan for BS Microbiology which is the Lahore University of Biological and Applied Sciences (Lahore-UBAS). 
BS Microbiology at Lahore-UBAS
LMDC-awarded university charter, as Lahore-UBAS is dedicated to providing new students with the most inclusive bachelor's degree in microbiology. You will get all the educational and practical tools needed during this programme.  
Our university follows the standard curriculum set by the Higher Education Commission (HEC) for BS Microbiology. The microbiology undergraduate programme comes under our faculty of biological sciences. In this degree, you will definitely take advantage of the wide range of beneficial subjects. 
BS Microbiology Curriculum at Lahore-UBAS
Our prestigious institute has designed this degree to provide you with all the theoretical knowledge. It also offers the chance to get hands-on laboratory work experience and practical skills related to microbiology and other relevant fields to help you build a promising future. Lahore-UBAS has the most comprehensive syllabus for this degree.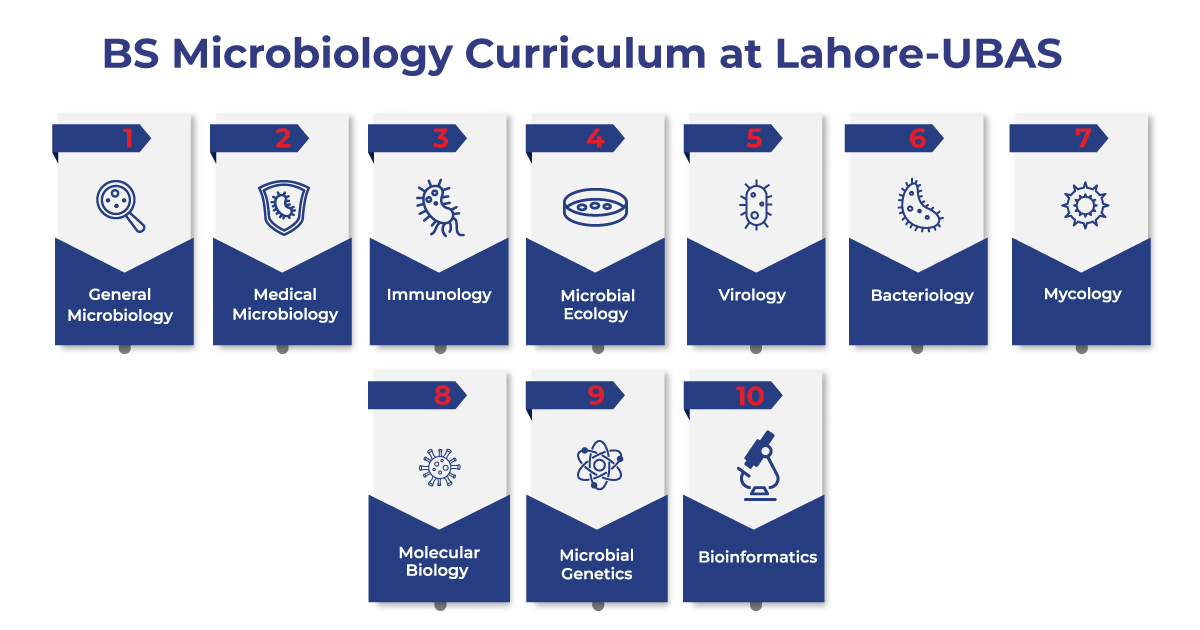 The important subjects which you will study during this bachelor's programme include the following: 
General Microbiology

 

Medical Microbiology

 

Immunology

 

Microbial Ecology

 

Virology

 

Bacteriology

 

Mycology

 

Microbial Genetics

 

Molecular Biology

 

Bioinformatics 

 
All these subjects will help you gain a clear concept of the field of microbiology. In addition to that, you will master the skills like staining, culturing, incubation, inoculation, inspection, isolation and identification of the microorganism at Lahore-UBAS.  
Thus, you will have great career prospects in many domains after graduating with our BS in Microbiology degree.  
Scope of BS Microbiology in Pakistan
The Government of Pakistan (GOP) has launched many projects in microbiology. Microbiologists and Researchers all around the country have participated in a wide range of projects. Ultimately, you will have the opportunity to join any of the research and work in progress after graduating with our undergraduate microbiology programme.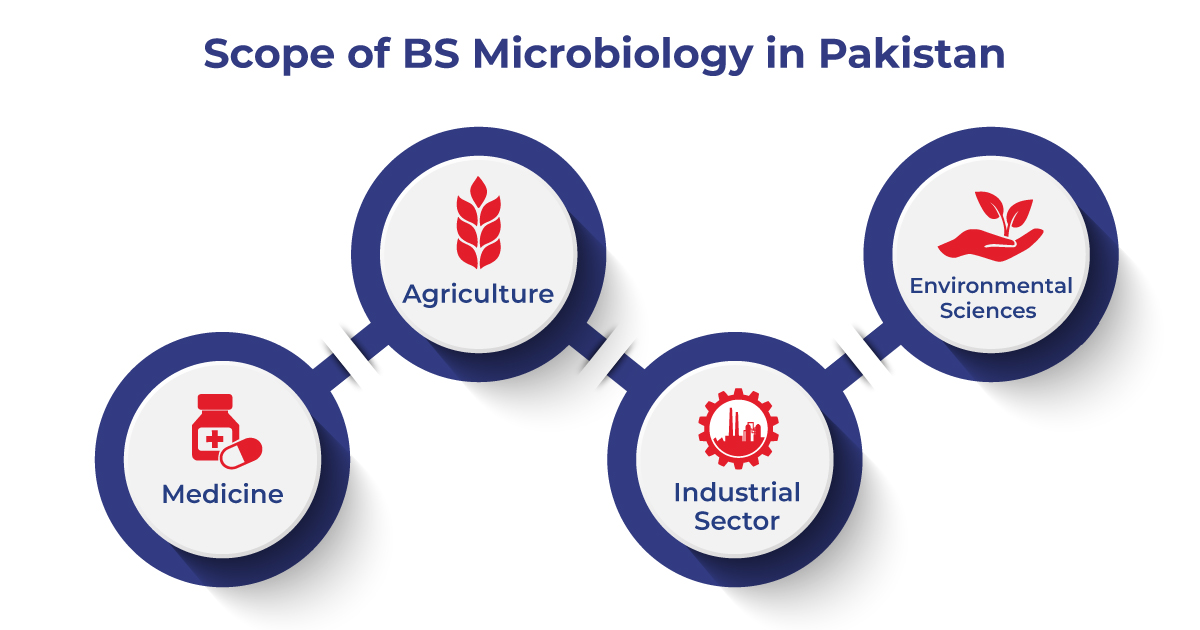 Moreover, the knowledge of microbiology impacts many sectors. I have discussed some of them below: 
Medicine
Microbiology is used to test the presence and effect of microorganisms by testing various fluids including blood, sputum, urine, faeces, and cerebrospinal fluids in the human body. It is also used to check the sensitivity of certain antibiotics in different people. 
Agriculture
In agriculture, microbiology is important to provide a suitable environment to the soil. For instance, microbes generate heat when they break certain plant materials or other organic matter which will stimulate the process of photosynthesis inside the plant body. 
Industrial Sector
A lot of microorganisms are used to synthesise amino acids and organic solvents industrially. Microbiology is also used to mass produce many products like food, cosmetics, and construction materials for people's use. 
Environmental Sciences
Microorganisms are essential in the recycling of nutrients and in the decomposition of organic matter. Consequently, with all the advancements and high demand in a lot of other domains, there has been a significant rise in the scope of the field of microbiology. 
Possible Careers for a Microbiologist
After graduating with BS Microbiology from Lahore-UBAS, you can join a lot of different jobs like: 
Academic Researcher

 

Microbiologist

 

Clinical Scientist

 

Immunologist In a Hospital

 

Clinical Research Associate

 

Medicinal Chemist

 

Food Scientist

 

Ecologist

 

Forensic Scientist

 
Thus, by now you would surely want to know how you can apply to the Lahore University of Biological and Applied Sciences to get the best bachelor's degree in the field of microbiology. You do not have to worry, as I will tell you easy ways to register with us. 
BS Microbiology Admission 2023 are Open at Lahore-UBAS
The admissions at Lahore-UBAS 2023 are open now! So, you can apply online via the Lahore-UBAS admission portal or you can visit our campus in Lahore. 
Apply at Lahore-UBAS to begin your quality academic experience right now!