If you are someone keener on pre-operation management or surgical preparations, then you can join the BS Anaesthesia Technology at Lahore-UBAS. This article explains the scope, approach, and learning opportunities for students interested in this part of medical services. It is a great idea to stay connected till the last word, as you will get all the required information and admission link in this write-up for quick access.  
BS Anaesthesia at Lahore-UBAS
A specialised degree programme comprised of four years is offered for a sensitive and essential field of anaesthesia. The field of medicine has seen massive growth in past years. Reducing the main and increase of comfort is the prime focus to raise the quality and quantity of human life.  
Anaesthesia is an essential procedure for major and painful surgery operations. Therefore, hospitals and healthcare institutions often look for specialised people. The people who are skilful enough to manage the complexity and match the appropriate level of required procedure of anaesthesia.  
Therefore, Lahore-UBAS brings BS Anaesthesia Technology to make responsible, responsive, empathic, and quick anaesthesia technologists to the national and international medical centres for the best services. You can learn more about BS Anaesthesia here.  
Course Overview in BS Anaesthesia
Medicine is ever-evolving; there are many sensitive areas that require precautionary measures and ample care. Similarly, to become a medical professional, it is crucial to consider the curriculum before confirming admission at any institution.  
Therefore, Lahore-UBAS offers the approved and upgraded course for learning purposes for successful degree completion of BS Anaesthesia.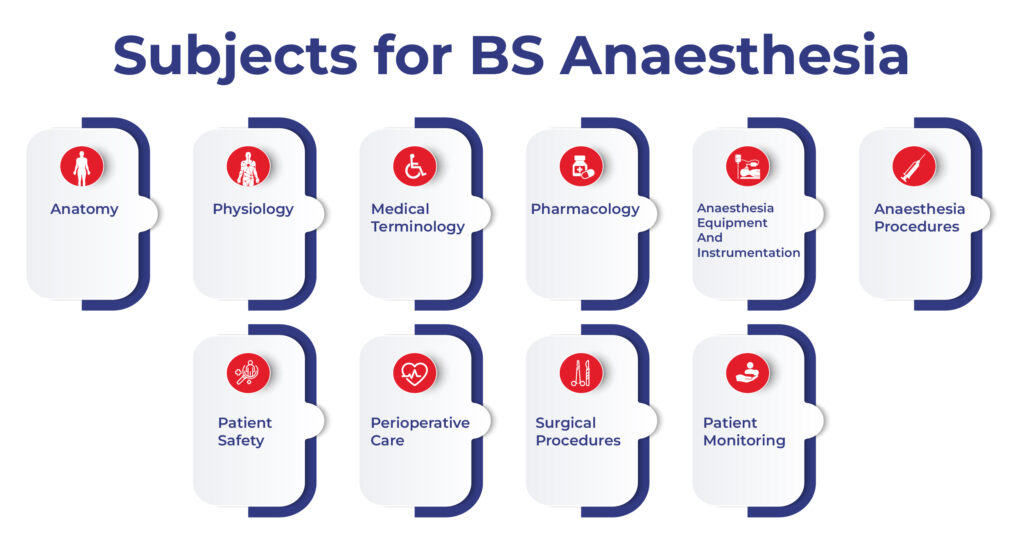 We have designed the course by combining the most essential and advanced subjects. To enhance the expertise and knowledge base of our enrolled students.  The students will get an opportunity to study anatomy and physiology, medical terminology, pharmacology, anaesthesia equipment and instrumentation, anaesthesia procedures, patient monitoring, patient safety, surgical procedures, and perioperative care. 
The goal is to develop a sound understanding of technical and clinical skills among our young graduates. You can watch out for the complete detail of the course for BS Anaesthesia here.  
Skills You Will Learn Are
During the course of study, our students will learn ample skills to stay competitive during their professional life. For instance, anaesthesia technologists should know anaesthesia techniques and medications. Furthermore, proficiency is required for the operations and management of anaesthesia management. Observing their patients through catching and understanding the condition of in-procedure patients to handle any difficult situation is also crucial to learn.  
Career Scope after BS Anaesthesia
There is a wide-open space for the graduates of BS Anaesthesia. They can work as anaesthesia technologists at medical facilities such as hospitals, operating rooms, clinics, and emergency rooms, supporting anesthesiologists, surgeons, and other medical specialists. anaesthetic technicians are essential perioperative team members because they help administer anaesthetic, monitor patients' vital signs, ensure that anaesthesia equipment is operating properly, and keep the operating room clean and safe. Graduates can also pursue careers in anaesthetic technology research, teaching, or leadership. 
Further Education Perspective
However, students will get ample opportunities to study further and keep their education on their competitive edge. This is also because medicine is ever evolving and growing field. Therefore, knowledge upgrades and skill updation is always required to stay market and field competitive.  
For this purpose, students can pursue higher education, approved certifications like paediatric anaesthesia, cardiac anaesthesia, or neurasthenia. Moreover, seminars, workshops, professional training and advanced education are always on the go.  
Reasons to Join Lahore-UBAS
Knowing your prospective institution is essential before making a major decision regarding admissions. Here, we shall provide you with an overview of Lahore-UBAS, its credibility, on-campus amenities, and openness to placement.  
Lahore-UBAS is a chartered university that works under the umbrella of the largest educational group of the Pakistan-Punjab Group. Hence, it becomes the fourth (4th) university alongside UCP, CUST, and MAJU for the group. 
Therefore, the quality of education with the level of accommodation and aspiration is unmatched and well-maintained throughout the sister institutions. Some of the astonishing features of Lahore-UBAS are as follows.  
Association of State-of-the-art Teaching Hospital

 

Comprehensive & Rich Learning Environment

 

Broad Scholarship Options

 

Rich Campus Life & Providing Student Life

 

Industry Partnerships, internships, and Placement Opportunities

 

Well Developed Hostels

 

Graded Cafeteria 

 

Book Stocked Libraries

 

Large University Campus

 
If you are looking for other information apart from scholarships and life at campus, you can get in touch with us through email or phone. Resources for contact are available.  
Apply Online for BS Anaesthesia Technology
Now, without any further, we are telling you to apply for BS Anaesthesia and become a professional with Lahore-UBAS. As you are connected with us till now, it shows your interest in studying at UBAS.  
You can apply through the website.  as admissions 2023 are on the go! 
Conclusion
BS Anaesthesia will help you become a professional perioperative care expert and anaesthesia technologist. Apply today to start with one of the most professional and rich medical institutes, located in Lahore.