Faculty of Biosciences offers a four-year degree programme in biochemistry as BS Biochemistry. Fall admissions 2023 are open at Lahore-UBAS. You can apply today to get yourself an opportunity to earn a professional degree in the field of biology and chemistry. This article will explore the career opportunities and chances of growth if you want to pursue pharmacology. Hence, you can become a Pharmacologist with a BS in Biochemistry.  
What is BS Biochemistry? 
An undergraduate programme in the field of biological sciences focusing on the chemical processes in living organisms is called BS Biochemistry. The basic and advanced concepts of biology and chemistry are professionally combined.  
The fundamental concepts in biology, chemistry, and biochemistry are all covered in a variety of courses that make up the BS Biochemistry curriculum. General biology, general chemistry, organic chemistry, physical chemistry, molecular biology, genetics, cell biology, biochemistry, biophysics, enzymology, and metabolism are among the subjects covered in the coursework.  
Additionally, laboratory classes may be part of the curriculum, giving students the opportunity to conduct experiments and examine biological molecules firsthand. Hence, the students get a solid and robust foundation for their education and lifelong journey.  
Opportunity to Attain Skills
BS biochemistry is a four-year-long degree, which is subdivided into eight different semesters. In these semesters, students will get a chance to study a variety of subjects. Molecular biology, cell biology, boy fluids and functions, immunology, DNA technology, and Hormones are some of the subjects. You can surely check out the course content in detail from the course details of BS Biochemistry.  
In addition to the massive learning opportunities with a wide variety of subjects, BS Biochemistry offers an optimal chance to become a skilful person with your graduation. The students can learn the following skills that can lead them towards success.  
Laboratory Skills

 

Critical Thinking

 

Understanding of Biological & Chemical Principles

 

Ability to Analyse and interpret the Experimental Data.

 

Scientific Research

 

Scientific Analysis

 
Career Prospects Available After BS Biochemistry
Once students complete their four-year BS Biochemistry, they can become any of the following as per their likes and preferences.  
Students can join: 
Scientific Research and Development Services 

 

Pharmaceutical and Medicine Manufacturing & Maintenance.

 

Trading & Supply

 

Academia in Colleges and Universities on national and international level.

 
For more exposure, please visit the details here.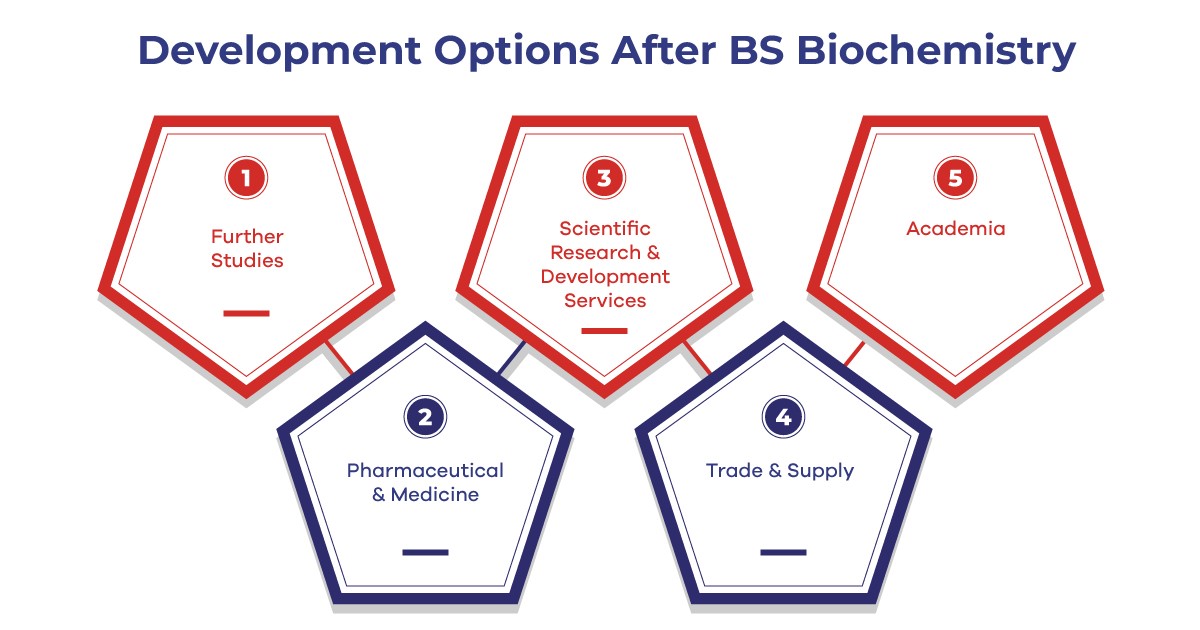 Become a Pharmacologist
Pharmacologists examine, research, and develop new medicines and drugs. They also do the sample check. Furthermore, perform quality assurance and safety tests regarding medicines and drugs. In addition, use the advanced equipment to collect and process data.  
To join a pharmacology, students should have knowledge about biology and chemistry and their procedures. Therefore, studying a BS biochemistry fulfils the degree requirements ideally.  
Further Possibilities for Studies
You can not only initiate your professional career with a degree in BS Biochemistry, but you can also continue your advanced education at graduate and doctoral levels of education. The students may go for MS biochemistry or MPhil in the relevant fields. Moreover, you can also pursue a PhD and research in the area of your interest.  
Lahore-UBAS offers Scholarships and Facilities
Now that you know the effectiveness and broadness of BS Biochemistry, you may think about the reasons to choose Lahore-UBAS for study purposes. If you are thinking about this, keep reading the text below, as we have noted the reasons to choose Lahore-UBAS for investing your precious resources with us!  
Lahore-UBAS is a part of the largest education network of Pakistan.

 

Lahore-UBAS Provides Massive & Multiple Scholarships

 

Well-Structured Campus

 

State-of-the-art & Latest Laboratories

 

Hostel & Cafeteria Facilities

 

Curricular & Extra-Curricular Activities

 

Experienced and Learned Faculty

 

HEC Approved Curriculum 

 
For scholarship purposes, you can visit our scholarship policy. For other facilities, you can visit the campus life.  
Admissions 2023 Are Open
Lahore-UBAS is accepting admission applications for 2023. BS Biochemistry is also the offered programme. You can apply through an online portal and process your application without hassle and with confidence.  
Final Call
BS Biochemistry can be your ideal degree if you have an interest in the biological sciences and chemical procedures inside living beings. Take admission today to lead the field professionally tomorrow. You can become a Pharmacologist with a BS in Biochemistry. Admissions 2023 are open! Don't miss a chance and apply before the procedure ends!