Have you always been eager to be a part of the surgical team but were not able to get admission in MBBS? Then you do not have to worry as you can opt for the degree in Anaesthesia Technology to work in government, private hospitals, and clinical setups. The undergraduate programme of BS Anaesthesia Technology at Lahore-UBAS will train you both academically and practically.  
Anaesthesia Technology
The use of medicine to prevent pain during any surgical or other procedure is called anaesthesia and all the techniques and new technology used for it define the Anaesthesia Technology. The medicines used for it are known as anaesthetics and they can be in different forms such as; 
Injections

 

Topical Lotions

 

Inhalation

 

Spray

 

Eye Drops

 

Skin Patches

 
The anaesthetics are administered based on the procedure. Therefore, anaesthesia is divided into some categories. 
Types of Anaesthesia
Anaesthesia Technology is a very interesting field which includes the following types: 
Local Anaesthesia (numbs a small part of the body)

 

Regional Anaesthesia (it numbs a larger area of the body like below the waist, arm, leg etc.)

General Anaesthesia (it affects the whole body, generally used for heart surgery, organ transplant etc.)

 
All this information sounds interesting, right? Then just think how much you will learn with an undergraduate degree in anaesthesia technology. Furthermore, you should choose a university which provides an ample amount of hospital-based professional experience which you will get from the Lahore University of Biological and Applied Sciences (Lahore-UBAS).  
Why Should You Study BS Anaesthesia Technology at Lahore-UBAS?
Whether you want to become a physiotherapist or a nutritionist to work in a medical setup, it is your chance to choose a degree with more clinical exposure and patient-care experience. As far as education is concerned, our university offers the most comprehensive curriculum for this four-year-long degree of BS in Anaesthesia Technology.  
It consists of a total of eight semesters, in which you will study all the amazing subjects, gain practical skills and enhance your professional experience. Because we provide hospital-based training for you to become one of the best anaesthetists in town.  
All-rounded BS Anaesthesia Technology Curriculum
The syllabus of this degree is developed to teach you all the key points through our useful subjects. Lahore-UBAS not only offers top-notch subjects but also, many other features for you. 
Variety of Features at Lahore-UBAS
As the name shows, Lahore University of Biological and Applied Sciences specialises in teaching all the medical and applied health sciences subjects. Furthermore, we have many other facilities available for you to have a well-rounded campus life, which are as mentioned below: 
State-of-the-art Campus Building

 

Professional Faculty Members

 

Well-Equipped Science and Computer Labs

 

Multimedia Halls and Auditoriums

 

Libraries Accessible to Every Student

 

Student Clubs and Workshops Available

 

Well-Furnished Hostel Facility

 

Campus Mosque

 
In addition to that, we have the opportunity for every student to gain abundant clinical experience by practising at our Lahore-UBAS Teaching Hospital. It is a multi-speciality hospital which will help you enhance your knowledge and polish your skills in real time. 
Multiple Scholarships Available
At Lahore-UBAS, you can get one of the many scholarships after enrolment. I have mentioned all the different types of scholarship in the list below: 
Merit-Based

 

Need-Based

 

For Specially Abled Persons

 

Kinship-based

 

Sports-based

 

Alumni-based (PGC student)

 

Contingency (death of father or guardian during studies)

 
For more details, visit our official scholarship policy and the CGPA you have to maintain for your allotted scholarship percentage. 
Online Educational Resources
If you are admitted to our university, then you will be able to fully access the HEC digital library anytime. Moreover, we give open access for our students to a lot of international medical and other journals. So, you can study any research article about your field or any other topic of your interest to increase your knowledge and also, to broaden your perspective. 
For more details, you can read this blog post about the degree of anaesthesia technology available at Lahore-UBAS. 
BS Anaesthesia Technology Eligibility Criteria
You should have at least 45% marks in the intermediate result or A-levels to be eligible to apply to our bachelor's programme in Anaesthesia Technology. Now, you must want to know, if you should enrol in this undergraduate programme or not. Therefore, I have mentioned the scope in the content below. 
Scope of Anaesthesia Technology in Pakistan
If you have done intermediate in pre-medical and now, want to pursue a career in the medical field, but you are not sure which specialisation will benefit you the most. Then you should join our BS Anaesthesia Technology without any worry.  
Because in the last decade, there has been a massive increase in the scope of this field of anaesthesia technology in Pakistan and worldwide. Every hospital (both government and private), clinic, and emergency centre is looking for the best professional anaesthesia technologist.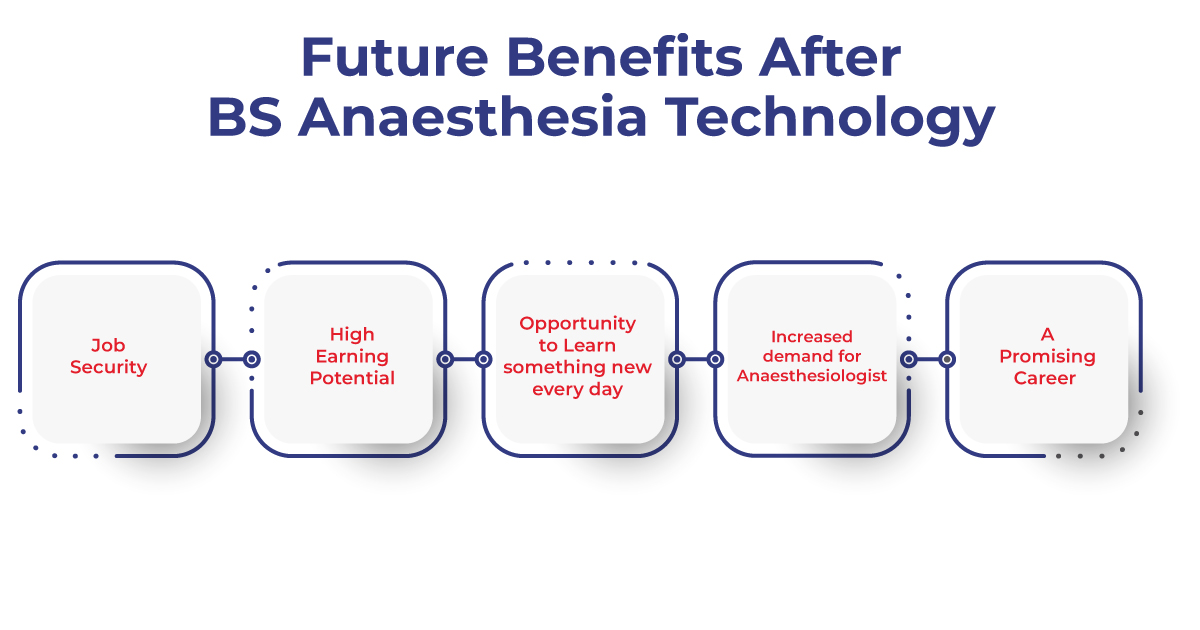 Moreover, you can enjoy the following benefits with this bachelor's programme: 
Job Security

 

High Earning Potential

 

Opportunity to Learn something new every day

 

Increased demand for Anaesthesiologist 

 
Anaesthesiologist – A Promising Career
An anaesthesiologist is a perioperative care professional who deals with the monitoring and supervision of a patient, before, during and after the surgery. They are responsible for administering anaesthesia procedures ensuring optimal patient safety. Moreover, an anaesthesiologist has specialities in anaesthesia care, pain management and critical care medicine. 
So, if you choose to study this interesting field, then you will be able to benefit from a lot of job opportunities available for your career growth. Additionally, this profession pays fairly as per the worldwide search results.  
Apply at BS Anaesthesia Technology Admission 2023
Our fall admissions 2023 are open for this degree in anaesthesia. So, if you are interested, then you should apply online or visit our university campus right now!